Home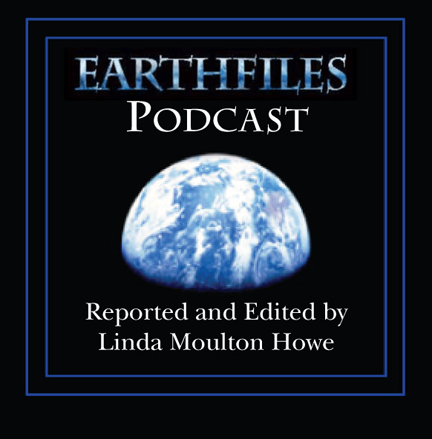 Earthfiles is an award-winning news website where experts, eyewitnesses and viewers share the latest updates in earth and astronomical mysteries. Beginning in 1999, Earthfiles now has more than 2,000 science, environment and Real X-Files reports in chronological sequence that include more than 20,000 images and documents in the growing Archive and ever-increasing current news. The in-depth reports go beyond the 6 o'clock news. Earthfiles Reporter and Editor, Linda Moulton Howe, is an Emmy Award-winning TV producer, investigative reporter for radio and internet and author who goes directly to the men and women at the forefront of science and environmental breakthroughs and to firsthand eyewitnesses of high strangeness. Howe has received two dozen TV production and journalism awards for excellence. Earthfiles.com received the 2006 W3 Silver Award for excellence in news category; the 2003 WebAward for Standard of Excellence; and the 2000 Encyclopaedia Britannica Award honoring internet excellence.
Episode 73 - Mysterious 12,000-Years-Old Gobekli Tepe, Turkey
Earthfiles Reporter and Editor Linda Moulton Howe interviewed Robert M. Schoch, Ph.D., Geologist, Boston University, inside the Gobekli Tepe, Turkey, excavation site on June 13, 2012. The T-shaped pillars have an anthropomorphic identity. But who are they? As their faces are never depicted, they seem very likely to be related to supernatural beings, beings gathered at Gobekli Tepe for certain, but so far unknown, purposes.
Episode 72 - What Is Causing Strange Sounds Around World?
As strange, unexplained sounds around the world continue to be reported by individuals, theories about what is causing the sounds range from Mother Nature and the cosmos to suspicions that in this year of 2012, linked to the end of the Mayan Grand Calendar, secret government projects could be experimenting with human reactions – like the new DARPA Battlefield Deception plan I will talk more about at the end of this report. But NASA Solar Physicist David Hathaway says it can't be solar plasma interactions with Earth's magnetic fields because those sounds are below the decibel range of human hearing.
Episode 71 - Eerie, Strange Sounds Heard in Tennessee and Kansas
At least 30 YouTube videos are now circulating from around the world with eerie sounds recorded over the past year since at least March 2011. Listeners report that eerie sounds – some compared to a "chorus of trumpets or horns" – other sounds compared to "an old TV playing in the distance" or a white noise drone of something like a freeway where there is no freeway. Excerpts of these unexplained sounds are included in this podcast.
Episode 70 - Japan Nuclear Crisis
By March 18, 2011, Japan's Prime Minister Naoto Kan said the Fukushima Nuclear Power Plant had three units in "partial meltdown" and radiation leaking at levels that can kill some people. "This is the biggest crisis for Japan in history … very grave." Japanese officials admitted that since water cannons, fire trucks and tons of helicopter-lifted water have not stopped reactor heating, they might have to bury reactors under sand and concrete, as happened at Chernobyl in 1986.
Episode 69 - TOP SECRET RAF Bentwaters Investigation
For the past 30 years since December 1980, no one ever said there was a TOP SECRET investigation organized right after sunup on December 26th, by RAF Bentwaters Base Commander Col. Ted Conrad. Now for the first time, Staff Sergeant Monroe Nevels, a photographer and Disaster Preparedness technician at RAF Bentwaters, describes what happened.
Episode 68 - Aerial Disc Beam Penetrated Nuclear Weapons at Whiteman AFB
In the fall of 1984 at Whiteman AFB, Missouri, a large, black, silent, aerial disc emitted a thin, reddish-blue beam that moved in a grid pattern over the igloo domes of two nuclear weapons storage facilities - and "fouled up the nuclear warheads."
Episode 67 - Huge V-Shaped UFO Emitted Beam On C-5 At Vandenberg AFB
 In late December 1969, a USAF security man named "Steve" and several others watched an otherworldly aerial machine emit a greenish-blue beam on a C-5 at Vandenberg AFB. Steve has never talked to anyone about the experience until now in this exclusive Earthfiles report. Steve said the day after the encounter, he was ordered by a United States Air Force Office of Special Investigations (AFOSI) Colonel, "You did not see anything!" See Steve's illustration at Earthfiles.com.
Episode 66 - Supernovae and Gamma-Ray Bursts
 The January 5, 2010, issue of Scientific American, headlined an article about a "Supernova star too close for comfort" to Earth. Since our solar system is in the Milky Way galaxy filled with potential supernovae and even much bigger gamma-ray bursts from much larger dying star deaths, could we be hit by a blast of gamma rays large enough to knock out our ozone layer? If that happened, all surface Earth life, including humans, would be exposed to deadly UV and gamma ray energies no longer blocked by the protective ozone layer. Has that happened before to our planet and caused one or more of the half dozen extinction events that mark life and death evolution on Earth?
Episode 65 - Life Saving Miracles - Angelic Interventions?
 Earthfiles Reporter and Editor Linda Moulton Howe has encountered mortal danger several times and Something in the unseen has intervened to save her life. Does the soul/spirit call out? Is there another-dimensional physics of angelic interventions, a very real dynamic of our cosmos that many have experienced through the centuries, but still remains a spiritual mystery, a miracle?
Episode 64 - Why Has U. K. Ministry of Defence Shut Down UFO Office?
 The British Ministry of Defence has confirmed that on December 1st, 2009, it has suddenly and mysteriously shut down its UFO phone hotline and email address for public reports, even as a UFO flap hit the U.K in 2009. Nick Pope worked for the M.o.D for 21 years and insists UFO reports by pilots, air traffic controllers and other credible eyewitnesses are still seriously investigated.
Episode 63 - Last Time Earth Without Ice: 55 Million Years Ago
 The climate research email scandal does not eliminate the fact that ice in the Arctic, Greenland, East and West Antarctica and mountain glaciers around the world continue to melt at accelerating rates. According to the United Nation's Inter-Governmental Panel on Climate Change (IPCC), Earth will warm up between 1.4 degrees Celsius and 5.8 degrees Celsius (roughly 2 degrees Fahrenheit to 10 degrees Fahrenheit) by the end of this century. Professor Emeritus Geophysicist Henry Pollack, Ph.D., 2007 Nobel Peace Prize participant and author of 2009 A World Without Ice, discusses the impact of leaked emails scandal on December 2009 Copenhagen global climate conference and his perspective on Earth's climate past, present and future.
Episode 62 - June Crain, UFOs and Wright Field, 1942-1952
An Aberdeen, Washington, police detective, James E. Clarkson, interviewed 72-year-old June Crain Caba before her 1998 death about her work at Wright Field, Ohio, where she held a SECRET Q clearance, knew about UFO crashes in New Mexico and retrievals of non-human bodies, and even held in her own hands "spaceship" metal that always returned to its original shape.
Episode 61 - High Strangeness in Hampshire, U. K.
On September 28, 2009, at 11 PM, retired auto mechanic Derek Bridges was looking out his bedroom window at a very strange, dark, red light in the pasture about a mile from his house. He got binoculars to see it better and was still puzzled. Then the light grew brighter and he ran for his videotape camera. Did he catch an animal rising up to the light – perhaps a cow, or even one of the water buffalos raised for meat and milk on the nearby Laverstock Park Farm?
Episode 60 - Life On Europa?
Jupiter's moon, Europa, is nearly as large as Earth's moon and beneath its icy surface is a liquid water ocean 100 miles deep that has oxygen. There in all that water University of Arizona Planetary Scientist Richard Greenberg thinks life already exists.

Episode 59 - 25% of H1N1 U.S. Patients Sick Enough To Be Hospitalized End Up in ICU
 Surprising October 2009 news from Centers for Disease Control is that this past spring, 7% of Americans sick enough to be hospitalized with the novel H1N1 flu, have died. That 7% is a higher mortality rate than ordinary seasonal flu. How many Americans ended up in intensive care with the new H1N1 virus? 25%. These statistics provoked Dr. William Schaffner, a Vanderbilt University flu expert, to warn: Contrary to the perception among many people that this influenza, the novel H1N1, is mild, these data vividly demonstrate that this influenza can make you very, very ill.

Episode 58 - 1980 RAF Bentwaters Witnesses: Penniston and Burroughs
 The time was nearly 3 AM on December 26,1980, when USAF Staff Sergeant James W. Penniston and Airman 1st Class John Burroughs approached bright, colorful lights in Rendlesham Forest between RAF Bentwaters and RAF Woodbridge they first thought might be fire – but then Penniston realized he was looking at a craft of unknown origin.

Episode 57 - Another RAF Bentwaters Security Airman Speaks About December 1980 UFOs
 Since my August 2009 series of Earthfiles.com and Coast to Coast AM radio reports, I have received more military eyewitness accounts about the December 1980 RAF Bentwaters and Rendlesham Forest UFOs. Some have never talked before now. One is Richard Bertolino who was on the radio with Staff Sgt. James Penniston after midnight on December 26, 1980, when Penniston headed into the forest to identify fiery lights.

Episode 56 - UFOs and the National Security State with Historian Richard M. Dolan.
Historian Richard M. Dolan has worked for ten years to produce 3-volumes about the UFO phenomenon. Vol. 2: The Cover-Up Exposed, 1973 – 1991 2009 , was released in August 2009. The third volume will be out in 2010. He comments about the British M.o.D.'s incomplete UFO file releases, 1980 RAF Bentwaters as "extraterrestrial in origin," and the power structure now controlling this planet's policies of denial about non-humans interacting with Earth.

Episode 55 - USAF Col. Charles I. Halt (Ret.) Says Bentwaters Lights Were Extraterrestrial In Origin.
Over the past thirty years in England – Royal Air Force Bentwaters, Royal Air Force Woodbridge and nearby Rendlesham Forest have been the focus of this question: What exactly did happen between at least two dozen military personnel, unidentified aerial lights and a triangular craft between midnight on December 26th, until 5 AM on December 28th, 1980? Now, Col. Charles I. Halt, the man who was then the Deputy Base Commander at RAF Bentwaters, has gone on the record to say the lights and craft were "extraterrestrial in origin."

Episode 54 - 1980 Bentwaters Lights Extraterrestrial In Origin
A press release dated June 25, 2009, was released by British Transport Police Officer and UFO researcher, Gary Haseltine, and contains this startling quote by retired USAF Lt. Col. Charles Halt who was Deputy Base Commander at RAF Bentwaters in December 1980 when mysterious lights appeared in Rendlesham Forest. In the press release, Col. Halt states: I believe the objects that I saw at close quarter were extraterrestrial in origin…

Episode 53 - Crop Circles Forecast Sudden Solar Intensity?

Episode 52 - Mysterious East Coast Bat Deaths Now Spreading Westward

Episode 51 - Aerial Lights That Mimic Stars, Helicopters and Airplanes

Episode 50 - Idaho Hunters Describe A Huge Triangle Aircraft Over Their Campsite.

Episode 49 - Is 2009A/H1N1 Outbreak A Herald Wave?

Episode 48 - First 2009 U. K. Crop Formations Counting Down to 2012?

Episode 47 - Spider-Like Drone Photographed Over Petten, Holland.

Episode 46 - Longest Solar Minimum Since 1913

Episode 45 - Endangered European Honey Bees

Episode 44 - Unusual Animal Deaths in Southern Colorado
Episode 43 - Security Guard Saw "Diamond-Shaped Panel" Fall Near Needles, California, and Encountered "Telepathic UFO"
Episode 42 - Unexplained Stranding of 200 Pilot Whales and Dolphins
Episode 41 - Unprecedented Northeast Bat Die-offs Spreading Rapidly
Episode 40 - Silicas - and Hot Springs? - On Mars
Episode 39 - Trends Journal Forecasts 2009 Economic Depression
Episode 38 - UFOs and 14th Century Black Death
Episode 37 - Silent, Hovering Ring with Long Antennas in Ohio Forest
Episode 36 - Dragonfly Drones - Alien Surveillance Technology?
Episode 35 - Wingless, "Dragonfly" Sighting On March 31, 2008
Episode 34 - Dragonfly-Shaped Aerial Craft: Eyewitnesses 1987 to 2007
Episode 33 - Mysterious Aerial "Drones" - Oklahoma and Arkansas
Episode 32 - Abductee Jim Sparks Comments On Alien Symbol Technology
Episode 31 – More Aerial "Symbols" Photographed Over Dublin, Texas. Reporter Angelia Joiner Resigns.
Episode 29 – Carbon Dioxide Build-Up in Oceans Will Kill Off Coral Reefs by 2050
Episode 28 - Mysterious Orbs - Emanations from A Divine Field?
Episode 27 - "Young Sasquatch"? Infrared Images on September 16, 2007
Episode 26 - Huge, Silent, Black Triangle Craft Over Youngstown, Florida
Episode 25 - Peru Meteorite, Disappearing Bumblebees and Parallel Universes
Episode 24 - Part 2: Psi Spies - True Story of America's Psychic Warfare Program
Episode 23 - Part 1: Psi Spies - True Story of America's Psychic Warfare Program
Episode 22 - Orange-Red "Fiery" Aerial Spheres
Episode 21 - Reality Checks On Milky Way and Chupacabras
Episode 20 - Iowa Minister Reports Large "Crab/Scorpion" Creature Attacked Cow
Episode 19 - Another "Drone" This Week Near Maxwell AFB
Episode 18 - Northridge, California, Aerial "Drone" Eyewitness On the Record
Episode 17 - Three Eyewitnesses of Mysterious Aerial "Drones"
Episode 16 - Antarctica: Unprecedented Western Ice Melt and CO2-Saturated Southern Ocean
Episode 15 - CIA Origin of National Enquirer?
Episode 14 - Environmental Emergency Update
Episode 13 - Fastest Rotating Object In Our Solar System Is One Of Strangest
Episode 12 - Honey Bee Disappearances Continue - Could Pesticides Play A Role?
Episode 11 - Zones of Fear and Diamond-Shaped Aerial Light
Episode 10 - Earth Life Threats
Episode 9 - Scientists Hope "Amphibian Arks" Can Save Frogs and Toads
Episode 8 - Grey Non-Human Floats in Air At New Orleans Defense Contractor Site
Episode 7 - Why Do UFOs Sometimes Play Cat and Mouse with Humans?
Episode 6 - U.N. Climate Change Report: Earth Could Warm Up 3.2 to 11.52 Degrees F. by 2100
Episode 5 - Tappen, North Dakota: Encounters with Non-Humans
Episode 4 - Human Genome Project
Episode 2 - Attorney Encounters Non-Human Entities
Questions or comments? Send email to earthfiles@earthfiles.com
.
7 Responses to "Home"